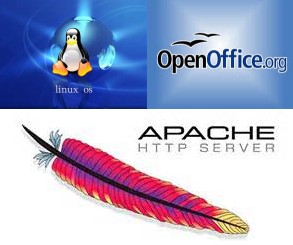 Maybe 15 or 20 years ago most managers and IT pros alike would have cringed at the very thought. Only serious tech geeks used Linux, but times have changed.
Here are some interesting key areas your business can benefit from the cost savings, security and flexibility of open source software, servers and applications.
Follow up:
Sponsor:


1. Server Software: If you are still paying for and struggling with IIS, Apache is the most widely used server in the world, it is free, powerful, flexible and secure. And on a fun security side note, even if you are not willing to run a Linux OS on your server hardware, it is not only possible, but advisable to run an Apache web server in a Windows Server environment. Doing this creates a whole host of issues for your standard hacker making it much more difficult for your server to be affected.
2. Development: Open source has you covered. Open source software allows you access to the code to change, tweak and modify to your hearts content. If you require GUI development tools there are many options available to you there as well. Commercial, closed source software just cannot compete here. As a matter of fact, the open source community encourages your own personal tweaks and modifications, that is one of the ways open source works, many developers working in many different areas and then sharing code.
3. Security: There are some out of the box security options that work quite well, but if you go the custom route, you can create an environment that meets your needs. The learning curve is higher than out of the box solutions but the customization benefits over the long term more than justify the work. Also when Linux is deployed in the desktop environment your security headaches decrease dramatically, everyone knows the two major OS players have very large security problems that must be addressed on a regular basis in the form of updates and patches that must be applied and installed.
4. Desktop: This is one area that has met with the most resistance to Linux and open source, it is understandable but the world has changed and so should your thinking towards open source desktops. With more and more work being done via web based applications and browsers, open source is less likely to suffer at the hands of spyware, malware and virus. With the ever expanding availability of open source applications and solutions to make your work flow compatible with open source you are running out of excuses not to think about a switch. Cost is also a concern for today's business, just compare the cost of the MS Office Suite to that of Open Office (the open source solution to word processing, documents and spread sheets).
The linked article goes on to hit on a few more points including workflow, ecommerce and multimedia.
In short, commercial and closed source solutions just do not hold a candle to the cost, flexibility and security of open source solutions.
With open source you have access to the code, you can modify and manipulate it to your needs. With commercial and closed source you must wait, and hope that some development team at the software vendor will update the code to your liking and to meet your needs.

Free is a price tag we can all agree with, you will need someone in house who can work with open source code but that cost is substantially lower than just maintaining your current licensing costs with your closed source commercial software.
If you are still skeptical about open source, yes, I understand, but consider this: the next time you visit a website, check the file extension of the page, if it ends in .php .cgi or .pl you are probably connected to an open source Apache web server programmed in PHP or Perl.
Like Computer Care on FaceBook
Follow us on Twitter
computer Care on Pinterest
computer Care on instagram
Visit the Computer Care Catalog Online for all your part needs.