Would you walk to the trash can and throw a stack of hundred dollar bills away?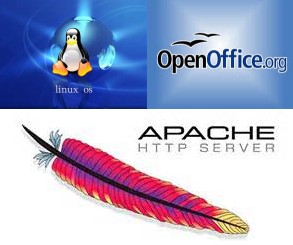 How Open Source can save your business money!
Everyone knows by now that Open Source is free, or at least I do hope the word is spreading. The computing world and the Internet Of Things is a vast gold mine of information and ideas. Open Source harnesses those ideas and the creativity of the masses to produce Operating Systems, Apps and platforms that in some cases outperform the expensive commercial counter parts.
Follow up:
Apache is the most widely distributed server platform currently in use, this is well documented since its release in 1995. It makes sense, it is open source so it is free to download and use.
Linux in all of its varieties and flavors is among the most widely used operating systems worldwide and has been gaining favor with non-geeks the last few years. This too makes sense; it is open source and can be downloaded and used for free. There are some paid versions of Linux out there, but by and large, it is free.
Lets talk productivity suites and your office, business, home office or personal use.
Have you ever heard of the Apache Foundation open source suit "OpenOffice"?
If you are a Microsoft™ operating system user you might think your only option for a productivity suit is Microsoft Office ™, you would be wrong.
Money does not grow on trees and costs are a large concern when maintaining or upgrading computers, systems and software. Outdated productivity suite upgrades can run into the hundreds and thousands of dollars and for larger corporations that can quickly become tens of thousands.
What about if it was free? Free to use, free to maintain? Free forever?
Would that peak your interest?
Enter the world of open source and OpenOffice.
Why should I use Apache OpenOffice?

Apache OpenOffice is the leading open-source office software suite for word processing, spreadsheets, presentations, graphics, databases and more. It is available in many languages and works on all common computers. It stores all your data in an international open standard format and can also read and write files from other common office software packages. It can be downloaded and used completely free of charge for any purpose.
It is free to download and use for any purpose, business or personal or public administration.
It is easy to learn and use, especially if you are already using another type of office software package.
Here is what you get:
It is time to consider open source for your business and personal use.
Take control of costs and open up to the wide world of innovation and creativity that once was reserved for the geeks and nerds. Open source is mainstream now.
Fun Fact: When you use open source, if you can think of a tweek, improvement or an add-on that would be useful, it is possible. If you are a programmer, know one or have an in-house programmer, it is possible to implement it.
And, if your idea and implementation are really good, there are ways to submit them.
Yes, your idea could end up in the next worldwide release of that open source package.
That is one of the marvelous beauties of open source, it does not use the talents of a small select group of programmers, it harnesses the creativity and talent of anyone in the world who can contribute.
Like Computer Care on FaceBook
Follow us on Twitter
computer Care on Pinterest
computer Care on instagram
Visit the Computer Care Catalog Online for all your part needs.