Link: http://www.pcmag.com/article2/0,2817,2469642,00.asp
UK going green to charge up mobile phones and tablets.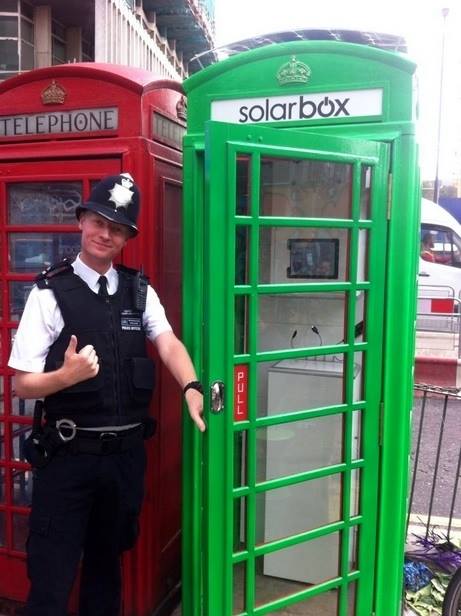 This is a green effort we could all get behind. You have all seen the iconic "Red Call Boxes" of the UK, well now you will find some green ones popping up. These are solar powered recharging stations for your mobile devices. Pop in and charge up, you will be served some advertising while you wait, and I think that is great.
Passersby can now juice up their mobile device in a Tottenham Court Road booth that has been painted green and turned into a solarbox.
…
Just pop into the updated box, which sports an 86cm solar panel on the roof, and plug in your smartphone or tablet; the free service, of course, comes with advertisements while you wait.
This going green effort appears to be privately funded and not at taxpayers expense, which I of course love.
The initial investment came from private sources and the ongoing cost should be covered by the advertising. I love that.
Follow up:
Capital will be based on the in-kiosk advertising platform, which has already locked down partnerships with Uber and Tinder. A third of the commercial space is reserved for community projects and short films.
This is a great modern use of outdated and existing hardware and provides a useful service. Add in the no emission aspect and this becomes a green project that actually makes sense.
"On launch day, my phone ran out of battery and I genuinely had to use the box," co-founder Craston said.
...
The solarbox, which is open from 5:30am - 11:30pm daily, can charge up to 100 phones per day, BBC said. In a hurry? Ten minutes will give you a 20 percent battery boost.
The prototype Solar Box is on Tottenham Court Road in London with the next 5 boxes to be rolled out by April of 2015 around London.
Like Computer Care on FaceBook
Follow us on Twitter
computer Care on Pinterest
computer Care on instagram
Visit the Computer Care Catalog Online for all your part needs.