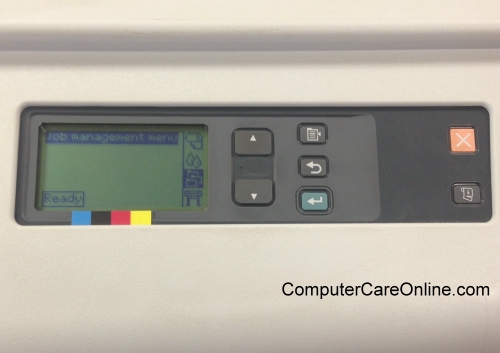 Two common error codes are not listed in the service manual.
The "61:05"and "63:03" error codes are not listed in the service manual. These error codes could be related to error code "79" which causes the printer to hang in "Initializing" in the control panel. You will see that the 12-black squares when initializing the printer will be empty, or just 6-black squares will fill, and thus prevent the printer from coming to "Ready". We have found out the correct fix is to replace the Jet direct Card, reload the new release of the drivers, and do the most current Firmware Upgrade.
Follow up:


If the error re-appears, re-create the file and try printing again. If the file is Postscript, check to see if it is Binary. If the file is Binary, use Apple Talk to send the file to the printer. If Apple Talk is not being used to send the Binary file to the printer, then try changing the printer's internal Postscript settings to Binary. To do this, you need to go into: Setup Menu, PostScript Settings, Encoding, Binary. Next, you need to reconfigure the Network card, 10/100 Ethernet. This is not just a plug & play type of network Card and will need to be reconfigured if the issue is still there. The next part to replace is the Formatter. We have two types of Formatters: PC Board, HP-GL/2 Formatter PC Board, p/n C7779-69272, (comes with HDD) or PC Board: HP-GL/2 and RTL formatter PC board, p/n C7769-69441 (comes without HDD). Check to see which version of the Formatter your printer has been using. Consequently, in order to reconfigure the network, you must have the correct IP Address. The Sub-Net Mask and Default Gateway need to be reconfigured on the Network.
To Reconfigure the IP Address on DesignJet 500/800
Start by changing the parameters using the printer's front panel:
1. Access the Printer Configuration menu in the printer's front panel.
2. Scroll to I/O Config and press "Enter"
3. Scroll to Config Card and press "Enter"
4. Scroll to Configure Network = Yes and Continue
5. Select Configure TCP/IP = Yes and Continue
Inside the link configuration section, it will be possible to change all the relevant parameters.
Computer Care has been servicing Computers, Networks, Servers, Plotters and Printers in the Brazos Valley of Texas since January of 2001.
Like Computer Care on FaceBook
Follow us on Twitter
computer Care on Pinterest
computer Care on instagram
Visit the Computer Care Catalog Online for all your part needs.